INDUSTRIAL DYES
Basic Dyes
Basic dyes are characterised by high colour intensity and bright colouring, which, however, are not light-stable.
Basic dyes are particularly suitable for applications in alcohols and glycol ethers, but sometimes also in water-based solutions, such as the paper and printing industries, but sometimes also in hair cosmetics.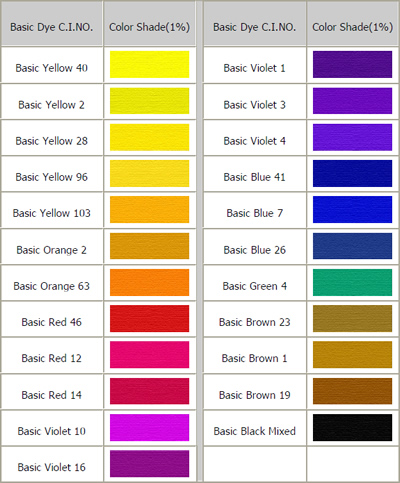 Do you have any questions?
Give us a call…
Datatable
Basic Dyes
| Liquid Basic Dyes Code No | C.I. No |
| --- | --- |
| 61.101.0 | Basic Yellow 2 |
| 61.102.0 | Basic Yellow 28 |
| 61.103.0 | Basic Yellow 40 |
| 61.104.0 | Basic Yellow 96 |
| 61.105.0 | Basic Yellow 103 |
| 61.106.0 | Basic Orange 2 |
| 61.107.0 | Basic Orange 63 |
| 61.108.0 | Basic Red 12 |
| 61.109.0 | Basic Red 14 |
| 61.110.0 | Basic Red 46 |
| 61.111.0 | Basic Violet 1 |
| 61.112.0 | Basic Violet 3 |
| 61.113.0 | Basic Violet 4 |
| 61.114.0 | Basic Violet 10 |
| 61.115.0 | Basic Violet 16 |
| 61.116.0 | Basic Blue 7 |
| 61.117.0 | Basic Blue 26 |
| 61.118.0 | Basic Blue 41 |
| 61.119.0 | Basic Green 4 |
| 61.120.0 | Basic Brown 1 |
| 61.121.0 | Basic Brown 19 |
| 61.122.0 | Basic Brown 23 |
| 61.123.0 | Basic Black Mixed |
| Powder Basic Dyes Code No | C.I. No |
| --- | --- |
| 63.101.0 / 11.126.0 | Basic Red 1 |
| 63.102.0 / 11.142.0 | Basic Violet 16 |
| 63.103.0 / 11.150.0 | Basic Blue 7 |
| 63.104.0 / 11.151.0 | Basic Violet 1 |
| 63.105.0 / 11.152.0 | Basic Blue 26 |
| 63.106.0 / 11.153.0 | Basic Green 4 |
| 63.107.0 | Basic Red 12 |
| 63.108.0 | Basic Black Blend |
| 63.109.0 | Basic Brown 4 |
| 63.110.0 | Basic Blue 9 - Methylene Blue 2B Zinc Salt |
| 63.111.0 | Basic Blue 9 - Methylene Blue |
| 63.112.0 | Basic Blue 26 - Victoria Blue B |
| 63.113.0 | Basic Yellow 57 |
| 63.114.0 | Basic Red 76 |
| 63.115.0 | Basic Brown 17 |
| 63.116.0 | Basic Yellow 28 |
| 63.117.0 | Basic Violet 11:1 |
| 63.118.0 | Basic Violet 1 / Methylviolett CI42535 |
| 63.119.0 | Basic Violet 10 |
| 63.120.0 | Basic Red 14 |
| 63.121.0 | Basic Blue 41 |
| 63.122.0 | Basic Yellow 40 |
| 63.123.0 | Basic Violet 2 |
| 63.124.0 | Basic Violet 3 |
| 63.125.0 | Basic Violet 11 |
| 63.126.0 | Basic Green 1 |
| 63.127.0 | Basic Yellow 2 |